Have you seen any Nollywood movies on Netflix recently? Finding time to watch them has been a struggle for me. Homeschooling takes most of my day, and writing takes the evening so I'm left with just a few hours before bed which I spend with hubby watching tv. So, you see, there's hardly any time to Netflix, and I actually do enjoy it. Anyway, I did manage to watch some really good ones over the holidays and I'll tell you about them -I'm sure you would have seen most of them anyway.
Remember, I'm no film critique, I'm just someone who likes writing about everything that catches my interest 😊.
Nollywood movies on Netflix
CITATION
Citation is a movie directed by Kunle Afolayan starring Jimmy Jean-Louis, Joke Silva, Gabriel Afolayan and introducing Temi Otedola. The film is about a student who speaks out after a university professor attempts to rape her and the reaction of the university institution to the claims.
Citation immediately got my attention because it's a Kunle Afolyan production, a name that I now associate with quality. Secondly, the movie touches on women empowerment, a topic I am very passionate about. Too many girls/women have been preyed upon, the society must put an end to this anomaly. We, therefore, need to sing louder about this social menace.
Plot
Set at the Obafemi Awolowo University Ife, the movie brings a story of rape and exploitation culture based on true events. The movie portrays an environment where rape is almost normalized due to attitudes towards gender and sexuality. The story follows Moremi, a bright young student who takes on the establishment when a hot-shot professor tries to rape her.
The story was original and very relatable. I went to a Nigerian University and though I was never a victim, I have friends and course mates that were hounded and harassed by lecturers. We knew quite a few that were warming lecturers beds for grades so this despicable act has been going on for years and it's great that Kunle brought this important subject matter to the forefront.
Whilst the subject matter was great, there were a few loopholes in the story, especially from the trip to Senegal. The beach scene was disjointed. I won't give anything away here though. I've also been left wondering why such a young lady will be going through a difficult situation with no family/parents showing up or at least calling for support!
Casting
The lead character was played by a new-comer – Temi Odetola. To be quite honest, I was a little sceptical about her casting but I must admit that it worked! A fresh face was needed for that role, and that's what she brought to the table. Her Yoruba speaking attempt was cringe-worthy though and she needs to work more on showing emotions. Apart from that, she wasn't bad, her fluency in French was good for the movie.
Jimmy played his role very well, a smooth, skilled and despicable prey that was used to getting away with his odious acts. He was very convincing (I would have been surprised if he wasn't). Gabriel Afolayan was very impressive, he obviously put a lot into the role. Ini Edo was good, we have seen or heard about two-faced ladies like that especially in higher institutions. I found the stalking twins a tad bit irritating though!
It was brilliant casting. Casting Temi as the lead was a risky choice, but she did quite well. Jimmy was perfect as Prof, he was a smooth operator with an intriguing aura around him. The supporting cast all did well too. Gabriel Afolayan's acting was brilliant but I don't think casting him as the love interest worked, he felt more like a big brother than a boyfriend. There was no chemistry there at all. Mrs Awosika was brilliant as the head of the committee, so was Sadiq Daba, Joke Silva ……all did well.
Costume/Soundtrack
I liked the costume. Professor's dressing reflected the Afro-francophone style which is quite different from our style. It's good to see that some thought was put into that. I loved the soundtrack, it eased us into each scene perfectly, it was really good.
So how did the movie do? It was quite an intense film, so I understand the need to take time to build up the story, for dramas, if not executed perfectly, there's a tendency for the movie to lag.
In all the movie was very good, it successfully delivered an important message right from the first scene regardless of a few unnecessary scenes. I also appreciate the naivety of the lead character, she met someone she could look up to intellectually and developed an innocent affection for him in the process (without even realizing it), this happens in life and for no reason should such trust and respect be exploited. Nice movie altogether.
ÓLÓTÚRE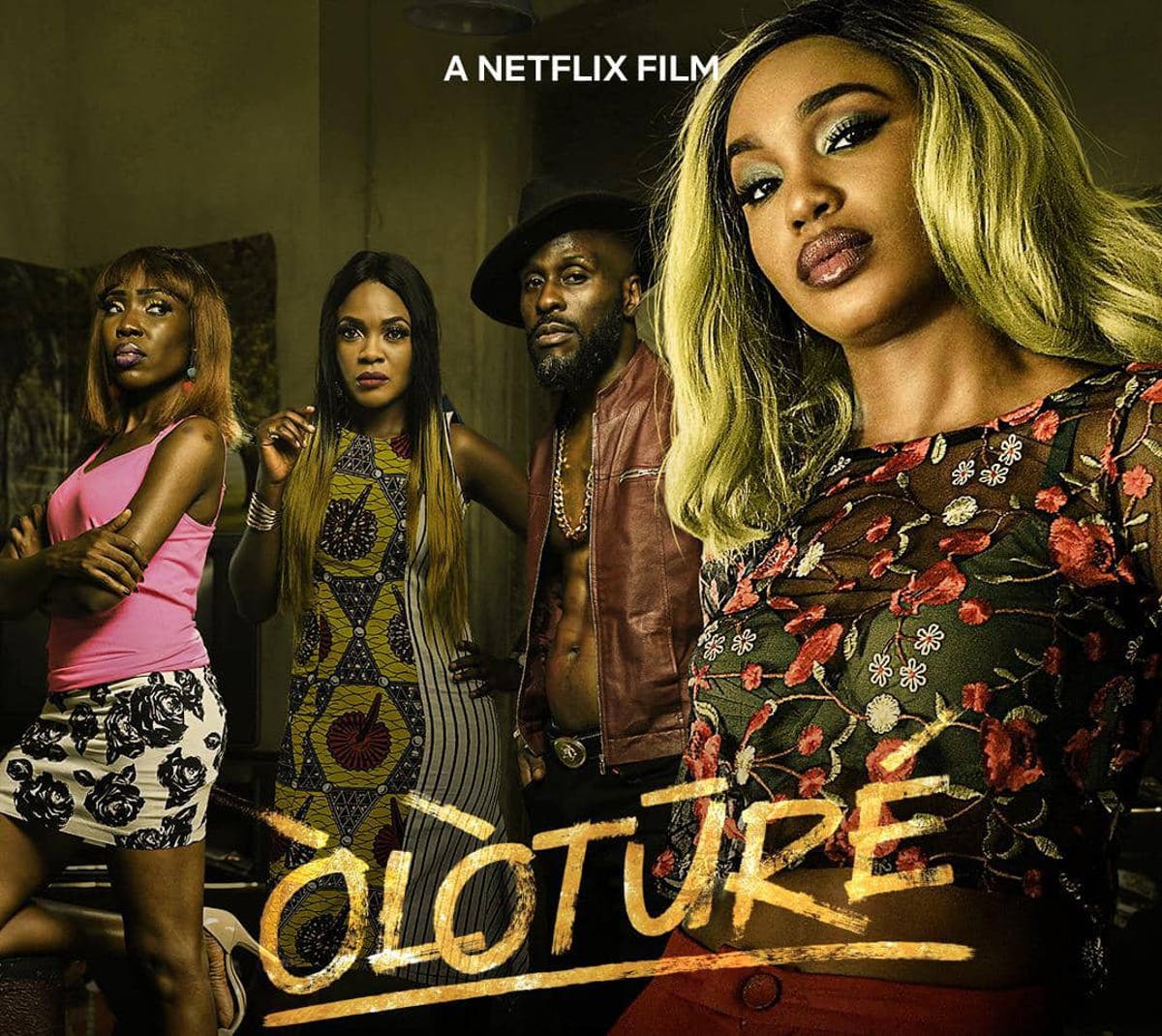 Directed by Kenneth Gyang, this movie tells the story of Òlòturé, a young and naive Nigerian journalist who goes undercover to expose the dangerous and brutal underworld of human trafficking. Taking on another important subject matter – 'Trafficking', already makes Ólóture a winner. The movie is based on a true-life experience of Tobore Ovuorie, an investigative journalist.
Plot
Set in Lagos, Ólóture depicts how sex workers are recruited to be exploited overseas. The plot is straightforward, it follows the life of young ladies who have taken to the streets to survive. It sheds light on the abysmal daily lives of these girls. The pimps, the god-fathers, the matrons – it's all there. A chilling story of survival, ólóture spares no one in getting this message across. It was painful to watch, you wonder how people turn to the monsters portrayed in the movie, which unfortunately is the reality. The ending was brilliant in my opinion, I didn't see it coming but it was just brilliant. The viewers are left with their conscience and imagination.
Cast
The lead character was played by Sharon Ooja. Sharon had to stretch herself a little for this one, it was great to see her in a different role from what she usually plays. Omowunmi Dada is fast becoming my favourite actress, babe can act. Ikechukwu did well in this role too. Omoni Oboli brought her A-game, the best I've seen her. I think the casting was very good. Everyone worked hard to bring this important topic alive.
Costume/Soundtrack
The costume was okay, nothing special needed because of the story-line. The music was good too, I think music is very important in movies, it gets overlooked sometimes, but it gives movies integrity, my two cents 🤷🏽‍♀️. Ask movies like 'Waiting to Exhale, O Brother Where Art thou, Armageddon or Space Jam' 😉.
So how did the movie do? It was a well delivered story, a few lukewarm acting from some of the support cast notwithstanding. It certainly tugged on ones conscience and would make you look at street girls in a different light. Certainly, a lot more needs to be done to empower the girl child!
Living in Bondage: Breaking free
This Ramsey Nouah's directorial debut serves as the sequel to the 1992 Nigerian classic "Living in Bondage". Like the original, Living in Bondage: Breaking free (also called Living in Bondage 2) primarily tells the story of a young man desperate for riches and willing to do anything to get it.
Plot
Taking place 25 years after the smash 1992 hit, the sequel picks up with Andy Okeke's son struggling to maintain a successful career a few years after graduation. Nnamdi certainly has high ambition but doesn't know how he can reach his definition of true success. Then the notorious Brotherhood of the Six headed by a suave billionaire – Richard Williams, knocks and promises untold riches. Will he answer? Andy Okeke himself has now become an ordained man of God with no knowledge of his son who had been raised by his Aunt's family.
Cast
The lead role was played by Jidekena Achufusi better known as Swanky JKA. He immersed himself into his role as Nnamdi, delivering a memorable performance. Ramsey Nouah who also directed the movie starred as Richard Williams. He was very believable as a wealthy modern cultist. There were only 3 actors from the original movie – Kenneth Okonkwo, Kanayo O Kanayo and Bob-Manuel who played minor roles. I think giving them minor roles was a brilliant move.
The casting was very good, all the actors did a fabulous job. I especially liked Shawn Faqua as cousin Toby. He was brilliant, the brotherly affection between him and Swanky JKA was deliciously natural, their scenes were some of my favourites. The journalist/blogger played by David Jones was also very good. Eyinna Nwigwe did great as Kanayo's son as did Nnnamdi's love interest played by Munachi Abii.
So how did the movie do? The movie did an awesome job of linking the original to this sequel. It was a cleverly hatched plot. I really liked how the movie showed the affluent lifestyle of 'The Six' especially Ramsey Nouah's character – private jet, yacht exotic cars and luxurious mansions. I also liked how the occultic part of the movie was interpreted, it wasn't embarrassing, it was very believable and brilliantly executed.
CONCLUSION
From picture quality to sound and storyline, these 3 movies did very well. It is exciting to see that our filmmakers are putting more efforts into their work. There's been a lot of improvement, although we obviously still need to do more.
I highly recommend these 3 movies.
Please don't forget to share your thoughts and also share this post.
Thank you 🙏🏽.
Aunty Lulu.
Recommended;