Hi guys, have you been watching Nollywood movies on Netflix? I took a short break but was able to watch a few recently. For my non-Nigerian readers, Nollywood is what the Nigerian film industry is called.
There has been quite an impressive improvement in our Nigerian movies, especially with cinematography, costume, make-up and sound. However, some of the stories just leave you bewildered! In my friend Nono's words "I felt like slapping myself for finishing it" this was after watching one of the movies on Netflix 🤦‍♀️. However, there are some really good ones so please don't be discouraged.
As a content creator, I know how difficult it could be to come up with content and how heartbreaking it can be when your hard work is criticised but remember that criticism should be used to make productivity better.
Spoiler Alert
It'll be hard to share my opinion about a movie without giving little away. For some people, it may make you curious about the movie but it may spoil it for others please be guided accordingly.
Let's get started…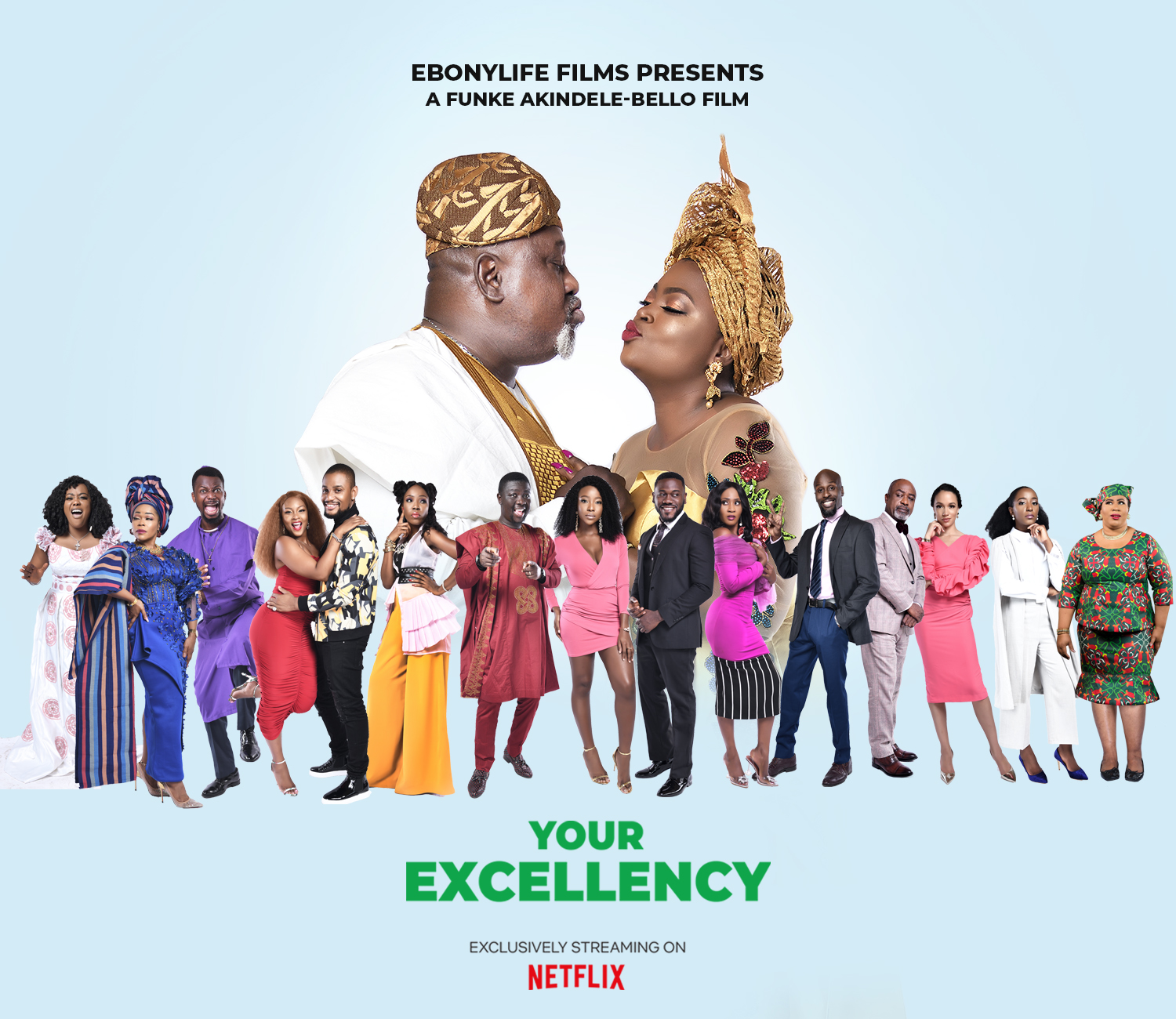 Your Excellency
Your Excellency is a political satire drama/comedy. In the movie, a bumbling billionaire businessman and failed Presidential candidate Chief Olalekan Ajadi (Akin Lewis) who is very much obsessed with US President Donald Trump was running again for the third time. Just when his political campaign looks on the verge of another flop, Ajadi is anointed by a majority party and becomes a tough credible contender with the assistance of social media.
I'd read a couple of unflattering comments about the movie on social media but I watched it anyway. Thank God I did because I was thoroughly entertained 😁. Oh, I loved all the characters especially Chief Ajadi. You could feel his genuineness from the screen. I also love the use of social media because whether we care to admit it or not, it's going to be shaping a lot of things in future.
This movie is a comedy-drama, comedies are not meant to be too serious or tedious they're meant to make the audience laugh, and I think the mission was accomplished. These days, a lot of our lives revolve around social media and content creation, I appreciate how that was tied in with the blogger, reality show couple and the musician's song. It draws needed attention on content, trademark, patent and copyright. I like how it was all connected.
Cast
Ikechukwu should resist this label of unseriousness Nollywood is imposing on him. Although I enjoyed his role and his silly mistakes made the movie more interesting, I'll like to see him evolve as an actor. I like Ikechukwu as I do Toni Tones. Sister always brings her 'A' game, She interpreted her role well even though more could have been done with her character. Alex Ekubo is always so endearing, he should also try to be more versatile as he's always playing the good lover boy role. I often find Osas too rigid as an actor but I quite enjoyed her acting in this movie. Funke Akindele, Shaffy Bello… great cast, all together good movie. I enjoy Ebony Life movies, they make me happy 😁 . I'll give them a 71/2/10
Merry Men 2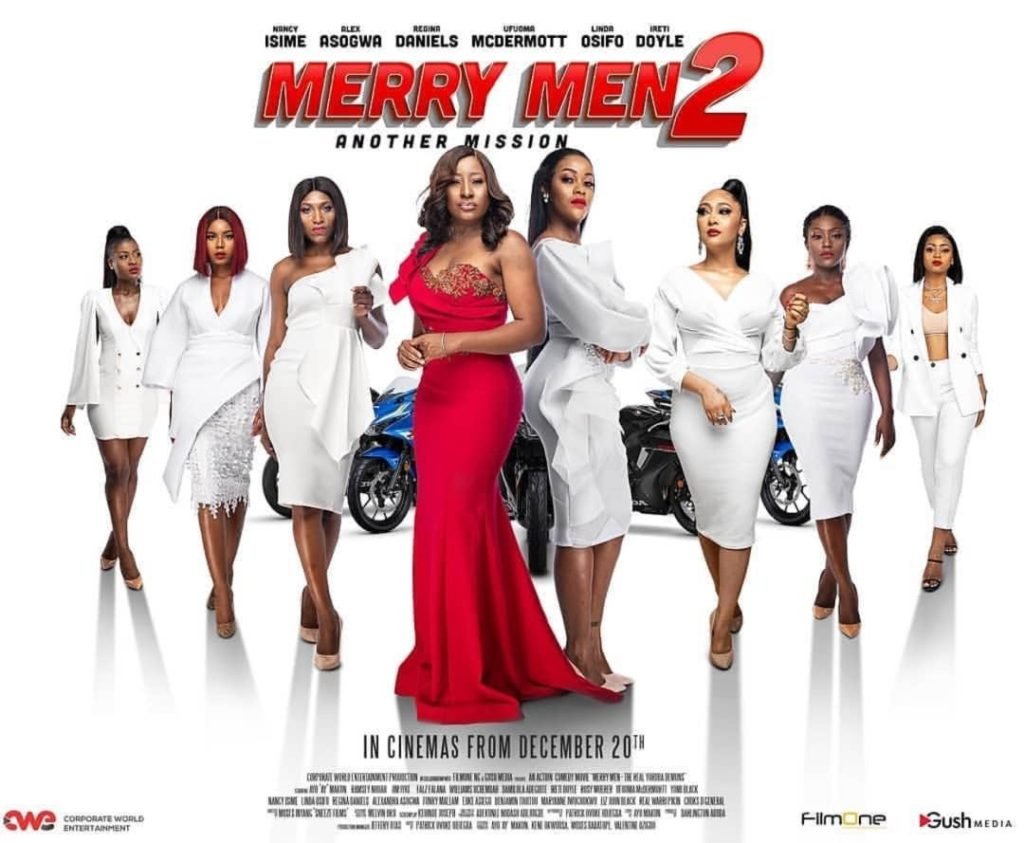 Merry Men 2
And then there were two 🤦🏽‍♀️. Oh Ay (AyoMakun) my action loving friend, beht why?! 😅. I wrote about the first Merry Men movie in my last Nolly wood on Netflix post and I think they were already working on the sequel then. Not only did we have to deal with the action from the Merry Men, there was a female mercenary gang 🤯. Oh yes, we had to deal with that too.
Cast
The talented Iretiola Doyle is back as the formidable Dame Maduka and she's out for blood, hence the female gang. Rose Meurer has definitely improved a little since the prequel. Ramsey Nouah and Jim Iyke along with Iretiola Doyle held the movie together – understandably as they are the more experienced actors.
I commend AY for his resilience in the action genre because if we don't keep trying we won't get there. Moreover, there's always room for improvement and when it comes to action movies in Nollywood, we need a lot of that.
The plot was certainly better, the action sequence still needs more work though. Bravo to the cast for their effort.
Can the Merry Men retire now please, well except he's coming with a younger cast, original story, convincing dialogue and believable action 😉. 61/2/10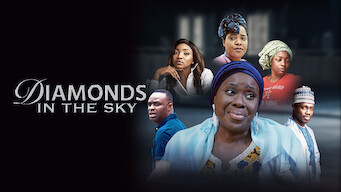 Diamonds in the Sky
What a pleasant surprise this movie was. I'd heard nothing about it, just found it on Netflix. I noticed it had a few of my favourite Nollywood actors and I pressed play! Best decision so far on Netflix.
The movie successfully tells three stories in one. Three families navigate uncertainty and struggle when cancer affects their lives and presents emotional challenges that test their bonds. From the editing, the directing, music and casting this movie delivered on all fronts. Though not perfect, noticed a few discrepancies with some scenes, the actors all delivered and some more.
Cast
Omowunmi Dada and Yvonne Jegede are two ladies I saw their work for the first time. They impressed me so much I went looking for more of their work 😊. The pairing of one of my all-time favs, Bimbo Akintola with Aderupoko was fab (who would have thought) but they're such brilliant acts that their coupling was convincing and very cute.
Joke Silva is a force that can't be ignored in Nollywood and she again let us know why that's the case, brilliant delivery here. My dear Toyin Aimaku even toned down her acting which was good to see, so did Femi Adebayo. All the cast were brilliant, even though Ali Nuhu was a bit underwhelming.
The stories were believable and the scene with Olaiya was a good comic relief. He's always made me laugh and it's good to see he hasn't lost it "Ara lojolo bayi" 😂😂 I couldn't stop laughing when he said this. That part of the story shows what ignorance and desperation can do especially when you mix those two with poverty. Movies like this are good for educating the public about critical issues, in this case, cancer.
Fantastic delivery from all the characters. They were engaging and the story was informative, apparently its an initiative of Leah foundation. It was a good one.
I know viewers always like a happy ending but I wish they had shown us the other reality of cancer, truth is not everyone survives it, the stories kind of made it seem like it always ends well.
What makes this movie more special to me is that it was produced and directed by Kwarans, Kunle Folayan and Femi Adebayo. It was also shot in Ilorin, Kwara State. It was a good feeling when I saw the Kwara State taxi, brought back memories. So good to see Kwarans raising the bar in their different fields. Definitely a must-watch. I'll give it 8/10.
Sugar Rush
Oh dear, I don't even know where to start with this. I had such high expectations for this one. With an ensemble cast, captivating trailer and hilarious promos, nothing can go wrong right? So I thought…
The movie tells the story of the three Sugar sisters who discover a bag of $800,000. After convincing themselves about why they should take the money, they run into a series of unfortunate events with the EFCC and other criminal groups who are trying to get their hands on the money.
Cast
There was very good chemistry between the sisters played by Adesua Etomi-Wellington, Abisola Aiyeola and Bimbo Ademoye. A few of the scenes were quite funny too but I found myself rolling my eyes almost throughout the movie. Too many holes in the plot I don't even know where to start from. I never knew a Zach Orji looking Bankole Wellington (Banky W) could pull off such a mean look but his look was ridiculous. he looked more like a magician than a dreaded crime lord. Bimbo Ademoye was a little extra in trying to be funny, I was exhausted after a while though her farting part was hilarious 😂.
I expected so much from this movie, especially after the director Jade Osiberu gave us Isoken! But Sugar Rush was just flat for me. It didn't give me the rush I was expecting. Oh, guys, there was a disappearing car in the movie! I felt like disappearing from my room as I was gobsmacked from what I was viewing 😆. It's a good movie if you like cheesy comedies. I'll give it a 5/10, no 41/2 😚.
Lara and the Beat
This is another movie I was excited to see on Netflix as I have a lot of respect for the producer, Biola Alabi. With a very young cast (you know you're no spring chicken when Chioma Chukwuka is playing the mum of an adult 😁.) This movie had all it takes to be a must-watch but I almost gave up a few minutes into the movie as I just couldn't stomach Seyi Shay's portrayal of a rich brat 🤦‍♀️. I'm happy I persevered though cause the movie got slightly better, even her acting got better and I liked the chemistry between her and Vector with the fone 🏃‍♀️. Can I unwatch the part Lara took the baseball to destroy her Ex's car, American style, guess what she ended up doing to the car? Go and watch it yourself 😁.
Cast
Wale Ojo appeared for how many seconds and he stole the show. He and Bimbo Manuel were the best act in the movie though we hardly saw them. Lala Akindoju did well too and that part where Deyemi Okanawon's character said "me too am a big fan" 😂 love it. Somkele was quite good but I felt like she held back a bit. In all, I love the young cast and the love story made me remember years of crushes and young love 😊.
I also liked the early morning prayers of Aunty Patience and her family " die die, die" 😁 . Nigerians pray alot and including that part was original.
The most important message I took from the movie was the importance of enabling the girl child. It's a topic I'm very passionate about. It's important to let our females know that there is no stopping them, there's nothing they cannot do. I'll give the movie a 6/10.
Conclusion
That's it, my wonderful readers, I'm still watching so look out for my next review coming soon. I heard cinemas are opening soon. There are a couple of movies I won't mind going out to watch. Funke Akindele's Omo-Ghetto and Kemi Adetiba's King of Boys 2 top the list👏👏. Excited much 😁.
Sitting comfortably above these two are 'The Secret Lives of Baba Segi's Wives and Wole Soyinka's Death and the King's Horseman. Whilst the first one is being adapted into a TV series, the second one will be a movie. This is a collaboration between Netflix Naija and Ebony life. I love how we are telling our stories now and changing the narrative, Can't wait to see these two.
Kindly share your thoughts on the Nollywood movies you've been watching. Thanks for always reading 💖.
Aunty Lulu